Congratulations to Céline and Zoe, our two teammates of Chaussette la 4L sponsored by SERT who lived a beautiful human, supportive and authentic adventure.
After ten days of adventure and strong emotions, the 4L Trophy crews ended their route at Marrakech by a very festive closing ceremony.
Solidarity actions: 3,460 kg of food collected in association with the French Red Cross and 9,165 Euros funds collected in partnership with Children of the Desert for the construction of a school in Morocco.
21/02/2013
The final straight line to Marrakech is launched! This stage takes place over two days.
Our teammates left the bivouac around noon, direction west.
19-20/02/2013
The adventure continues around Merzouga, second loop around the bivouac always with the aim of not getting stuck in sand dunes. First day on the paths through the Moroccan dunes for a loop around Merzouga. Our crew got by pretty well. Good position at the ranking step 5 & 6. Congratulations girls!




18/02/2013

As girls say: "The days are not like".
After a cool night, our crew goes ahead slowly but surely through the Moroccan desert and without any mechanical problems. Tonight they will rest at Merzouga's bivouac.
17/02/2013
Today, our crew headed to Rabat in the south of Morocco. All went well as they crossed two passes rising to over 2,000m. Tonight they are sleeping at Boulajoul (the first true Moroccan bivouac).

15-16/02/2013

Despite some small mechanical problems our teammates are still very motivated and keep on continuing their crazy adventure driving southwards to reach Algeciras for an arrival around 5am! Our crew took the boat today at 4pm for MOROCCO. The adventure is going to really start tomorrow with the first steps on the slopes of the rally. All the participants all delighted in advance for the legendary hospitality of the Moroccans!
14/02/2013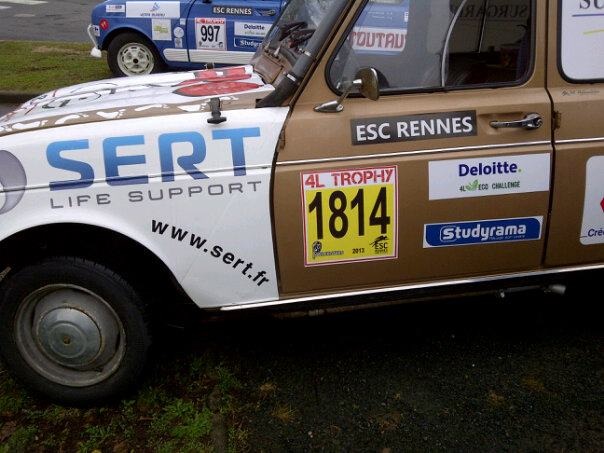 It's the Big day! Our teammates have n°: 1814
The 16th edition of the 4L Trophy is officially launched. In total 1,447 crews set off together this Thursday for Algeciras via Salamanca at around 1pm for the 16th edition of the 4L Trophy to travel 6,000 km through France, Spain and Morocco. Follow live here: http://edition2013.4ltrophy.com/#/
12/02/2013
Imminent Departure !
Celine & Zoe visited (in picture) us in our premises today to show us the ornament of the car. We brought our little twist with words of encouragement on it. Departure on Thursday, February 14, 2013 as scheduled!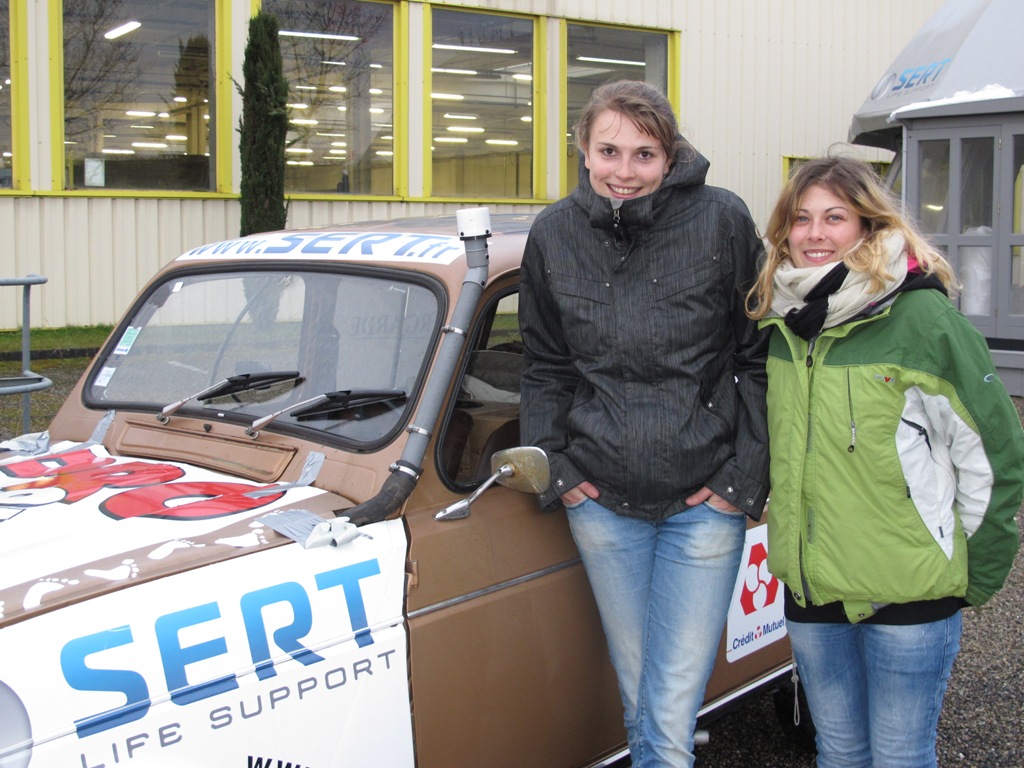 SERT shares the 4L Trophy's values ​​and supports one of his crews in this Human and United adventure, which will take place from 14 to 24 February 2013. Those 10 days-student Raid (France - Spain - Marrakech) combines humanitarian, sharing and solidarity. More details on http://www.4ltrophy.com/?gotosite=1
All SERT team wishes Good Luck to Zoe and Celine for this adventure. If you want more details on the crew we are supporting, follow this link: http://4lchaussette.blogspot.fr/
We will soon publish some pictures of this raid on our website.