The new shower platform PFD 3500 is designed to accommodate approximately 150 people in two hours in a compact and entirely sheltered environment.
- 150 PEOPLE IN 2H
- TRANSPORT IN CONTAINER, ON FLATRACK OR TRAILER
- WATER AND ENERGY SAVING
- 8 CUBICLES
Click on the picture to see the video of our partner GDS-Australia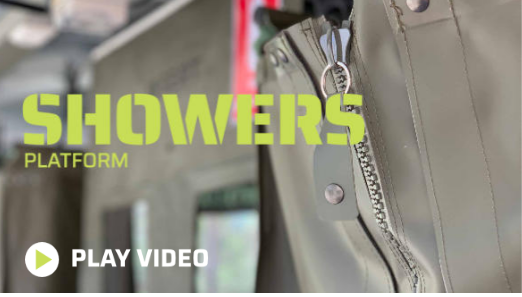 It is equipped with eight shower cubicles and four sink areas easy to deploy, connected to a centralized drainage network (in option external washbasins can be provided).
The instantaneous production of hot water is equipped with a very precise and adjustable electronic regulation from 35°C to 40°C, which guarantees the comfort and the safety of the users.
Thanks to its water saving taps and shower nozzles, the PFD 3500 can reduce up to 65% the water and energy consumption compared to the traditional system.
This unit consumes low electric power due to its latest‑generation components and the SERT's high efficiency burners. Its low-power generator ensures full autonomy.
The expandable platform offers to the users a sheltered sanitation area of 14 m², 40 cm above the ground.