The new hygiene platform PFS 3000 has been designed to accommodate 50 to 150 people in a compact and entirely sheltered environment.
- UP TO 150 PEOPLE
- TRANSPORT IN CONTAINER, ON FLATRACK OR TRAILER
- ENVIRONMENT FRIENDLY
- 6 MODULAR CUBICLES
Click on the picture to see the video of our partner GDS-Australia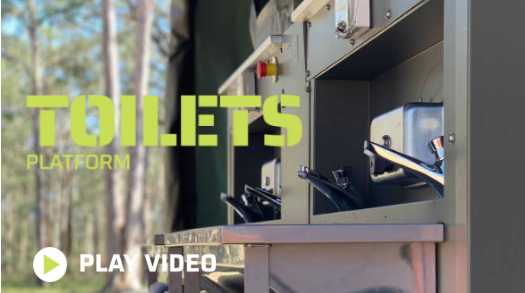 The sanitary equipment are installed on a new generation modular platform very versatile, more economical and environmentally friendly in terms of transport and enabling the unit to fit all types of logistic means (2 platforms in a 20' dry ISO container or on a flat rack).
The users have a combination of 6 individual cubicles that can be fitted on demand with shower or WC or eventually urinal and a wash basin area with 4 mixing taps.
An effective management of water (around 1 litre per flush) and energy use as well as a biological treatment system of the WC waste enable to preserve environment.
Thanks to its water saving shower nozzles and its new high efficiency multi liquid fuel burner ensuring hot water production, the shower system can reduce up to 65% the water and energy consumption compared to the traditional system.
After the expansion of the walkways enabling to access to the cubicles, the users have a sheltered area of 11 m² above the ground.