The SERT laundry platform PFL 3000 with a capacity of 32 kg/h is designed to accommodate 150 to 250 people in the field (washing, spin drying and drying). The unit can be used to wash hospital linen as well.
- UP TO 32 KG/H
- TRANSPORT ON TRAILER, ONTO FLATRACK OR IN CONTAINER
- AUTONOMOUS
- NEW BURNER
Click on the picture to see the video of our partner GDS-Australia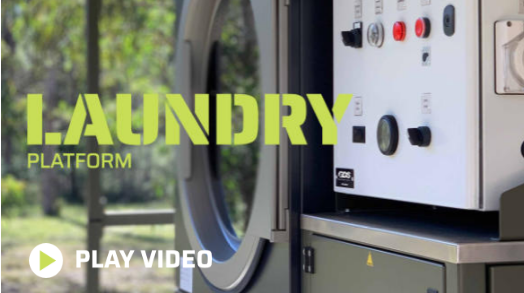 The laundry equipments are durable and specially designed to withstand field constraints.
The PFL 3000 is autonomous thanks to its own soundproof liquid cooled diesel generator in continuous service and to the new high efficiency SERT's multi liquid fuel burners allowing a reduction of fuel consumption.
This unit can be transported either onto an all tracks trailer or onto a 20 ft flatrack or housed in a dry container or by aircraft.
Four folding walkways and awnings form a 14 m² perfect shelter from the weather up to 40 cm above the ground, protecting operators from dust, sand, mud, rain, snow etc...